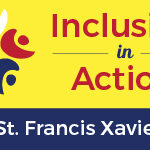 St. Francis Xavier School Is All In for Inclusion
October 19, 2022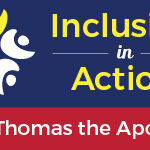 St. Thomas is Keeping Families Together with Inclusion
February 10, 2023
Inclusion in Action
Phoenix's Brophy College Preparatory Graduates Men for Others–Sighted and Blind–to Serve the World
It was an extraordinary event when Max Ashton graduated from Brophy College Preparatory in 2014. Not only had the young man succeeded at one of Arizona's most rigorous private schools, but the school had graduated another legally blind student without compromising its high academic expectations. 
The Brophy Choice
At just three months old, Max was diagnosed with Leber's congenital amaurosis, leaving him with no central vision and just slivers of peripheral vision. Max grew up reading braille and using a white cane. In middle school, he was a good student and involved with band and wrestling, but he knew he wanted something more challenging for high school. 
Max and his parents decided on Brophy College Preparatory, a Jesuit Catholic private high school. His father and grandfather are alumni, and the family knew that a Jesuit education and the Jesuit idea of "Men for Others" would be ideal foundations for Max to thrive. 
When the Ashtons approached Brophy about Max enrolling, the school could have apologized, explaining that it wasn't technically equipped to handle such a student. Instead, the school embraced Max. Brophy readily admitted that it was not a school for the blind, nor did it have a teacher for the visually impaired or braille books. However, it had graduated a handful of blind students in the past, and it was willing to do the work necessary for Max to succeed if his family could help guide the school.
His father, Marc Ashton, who serves as CEO of the Foundation for Blind Children, recalled, "We quickly discovered that as long as Max had the aptitude for the high academic expectations Brophy required, they would accommodate what they could for Max. But this required our involvement."
Figuring Out How to Teach Max
Since Max was a braille reader and had experience with laptops and talking software, the Ashtons helped the school select tools to support their son. "Brophy acquired everything Max needed," Marc noted, "including a special laptop with special software so Max could work alongside his sighted peers." 
As time passed, the school also identified which accommodations Max required to learn and prove what he had learned. Some of the accommodations were made with simple changes, like emailing homework instead of using hard copies or allowing oral tests or more time on tests if the exam was reading intensive. Other changes improved learning for sighted students too. Marc explained, "When teachers began to speak out loud what they were writing on the whiteboards so Max could understand the lessons, they realized that this descriptive teaching benefited some of their sighted students as well."
During freshman year, Max's English teacher asked Marc if he should deduct points on assignments for grammar, spelling, and punctuation mistakes since, he thought, Max couldn't proofread his work. Marc remembers telling the teacher that his son could proofread his work and "if you hold him accountable he will improve." Max finished with an A in the class.  
Beautiful Possibilities
While most private schools would love to offer all students–in particular students with disabilities–a high-quality, inclusive education, many schools simply don't know how. Consequently, students are missing out on educational opportunities and schools are unable to develop diverse student populations that enrich students and educators.
Schools like Brophy illustrate the beautiful possibilities that exist when schools ditch their comfort zones to serve students with different abilities. The school was not only able to welcome an exceptional young man into its student body, but it also deepened its understanding of how to serve students with disabilities while developing new practices to better serve all students.
As for Max, attending Brophy–possibly the most rigorous high school in the state–was just one of the challenges he has embraced. In high school, Max co-captained his wrestling team and acted in a play. He also swam Alcatraz, hiked rim-to-rim of the Grand Canyon in a single day, and became the youngest blind climber ever to summit Mount Kilimanjaro, Africa's highest peak. After Brophy, Max graduated from Loyola Marymount University in Los Angeles, and today, he serves as the first blind Archivist of the Arizona House of Representatives.  
Max is the man he is today, in part because of the extra effort faculty and staff took to accommodate a visually impaired student. Best of all, since Max graduated from Brophy, the school has welcomed other blind students. May this example of inclusive learning in one of Arizona's best private schools inspire other schools to commit to welcoming and supporting learners of all abilities.
---
Brophy College Preparatory is a proud member of the Arizona Inclusion Network. AZInc is helping private schools in the state offer high-quality, inclusive educational opportunities for all students with disabilities.